About Me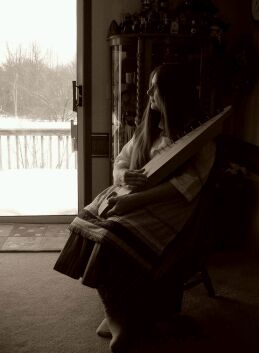 The Kantele Player ©2004 by J. A. Thompson
More great photos
by J. A. Thompson
I love to write songs and tell stories, and I've been writing for over 40 years. However, until I discovered my kantele, I never wrote music - just lyrics. I don't hear music in my head. Instead, my fingers discover songs - one note at a time. The first song I wrote on my kantele was In the Forest. It tells the imagined story of one of my ancestors, and I was inspired to write it after discovering his death certificate while researching my family's genealogy.
The Finnish epic, The Kalevala inspires much of my writing, as does The Lord of the Rings. I'm composing a series of songs based on the stories and characters of both stories.
"In the beginning there was nothing. Then Makir put on his red slippers and began to dance. He danced the stars that seed life and the dreams born from their dust. He danced the birth of Time, framework of stories. He danced the wyrmholes between all our worlds…and then he danced the Irth." ...from The Red Dance

In addition to writing music, I like to write "Mythorealism" - a type of fiction in which Myth incarnates into the waking world. I've written one book, The Red Dance, which author John Grant calls "...so much at the cutting edge...so unbelievably individual...so much what fantasy literature ought to be all about -- that's so just plain out-and-out good...." You can buy this book for your Kindle here.
More Pictures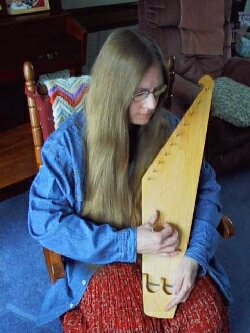 Photo Copyright 2002 by Jeffrey A. Thompson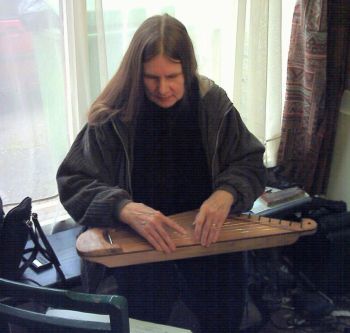 Playing the custom Masur birch pentatonic kantele,
which Michael King made for me.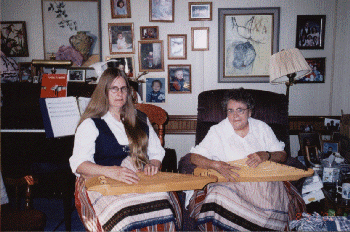 Here I am with my mother. We're playing our kanteles for the family
Labor Day get together (2002). She made our Finnish inspired costumes.
Finnish Recipes
Kaljavelja
This recipe was a family favorite in my Finnish family when I was growing up. It can be served hot or cold.
12 cups of water
1-8 oz. box dried apricots
2 cups of raisins
3/4 cup rice
sugar to taste (start with 1/3 cup)
Simmer the apricots in the water for 2 hrs. Mash apricots and simmer for another 1/2 hour to an hour. Add rice and raisins and simmer for another 45 minutes. Add more water as necessary to keep the level the same. Stir in sugar and add more to taste. This is supposed to be a sweet meal. Serve hot over cubes of cheese (as a soup) or serve cold as a dessert.
Grammy Harju's Nisu
2 cups scalded milk
1/4 cup butter
1 tsp. salt
1 cup sugar
Cool to lukewarm. Add...
crumbled cake of yeast
2 beaten eggs
3/4 tsp. ground cardamon seed
7-8 cups of flour, sifted.
Knead bread dough. Let rise until double in bulk. Shape dough into desired form such as braids, wreathes, buns, etc. Rise again. Bake in a 350 degree oven until done. Upon taking out of the oven, brush with a glaze made from 1 cup confectionary sugar, 1/4 cup hot water, and lemon juice OR 1 cup confectionary sugar, 1/4 cup strong coffee and a pat of butter.