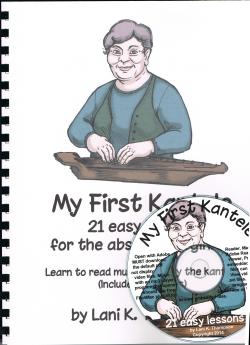 This is the book for you, if you're teaching yourself how to play the kantele.
Can't read music? Don't worry! You'll learn how. Each lesson includes a simple explanation of whatever you need to know to complete the lesson. Learn at your own pace, mastering each lesson before you continue.
Those who can read music concentrate on learning how to play melodies and chords and practicing exercises, using standard fingering.
Videos and sound files make it easy to learn. Quizzes test what you know and an Answer Key is included so you can check your answers. The second part of the book consists of 46 songs written for 5 and 10 string kanteles.
---
Table of Contents
Introduction
Day 1: Tuning Your Kantele Click on title to see a page from this chapter.
Day 2: Let's Get Ready to Play
Day 3: Staffs
Day 4: Measures
Quiz
Day 5: Pitch
Day 6: Clefs
Day 7: Ledger Lines
Quiz
Day 8: Note Values
Day 9: Rests
Day 10: Time Signatures
Test Your Knowledge
Day 11: Counting Click on title to see a page from this chapter.
Day 12: Tempo
Day 13: Accidentals
Quiz
Day 14: Key Signatures
Day 15: Intervals Click on title to see a page from this chapter.
Day 16: Scales
Day 17: Chords
Day 18: Dynamics
Day 19: Articulation Marks
Day 20: Ottava
Day 21: Other Types of Repeats
Test Your Knowledge



Answer Key



Music For Five String Kanteles



Iltasaunan Saapuessa
Vuotas, Katsahan Tupoa
Kalevala Melody
Väinämöinen's Birth
Ukko Dancing
A Song For Ruth
The Planting Song Click on title to see this page.
Run to Your Fate
Waltz From Lapinlahti
Nannon's Song
Rykälinnun Laulu
The Harvestman
Little Bouncing Ball
Uppi í Háa Hamrinum
Greeting the Sun
The Baby Crocodile
Magic Sampo
Aiken Drum
Ode to Joy
Lightly Row
Kvadalog
Blow, Boys, Blow



Music For Ten String Kanteles



Dance Tunes from Lieksa
Blue Stockings
Mene Vaan
In Fields of White
Ei Oo Poika Lepänpölkky
The Juniper is a Beautiful Tree
Kamanat Kohottukohot
Strawberry Pie
Onko Teiän Sulhollanne
A Frog Went Courtin'
I'll Sing You a Dream
Linnut ne Pihapuissa
My Darling
A Waltz For Sylvia
Aino's Lament
Aino's Complaint
Kyllikki's Song
Lament
Ballad of the Red Maid
Calling the Trees
Isontalon Antti
The Night We Said Goodbye
A Song For Lost Kin
She Moved Through the Fair
About the Author